Memberships with The Leonardo
Our membership options include several choices that will best suit your needs. Each membership comes with a huge range of benefits, including member-only events, discounts on nearly everything in The Leo Store and The Bistro, and many more. Membership also supports our missions to fuse science, technology, and art in experiences that inspire creativity and innovation in people of all ages and backgrounds. Each membership enhances our ability to bring this mission to life, each and every day.
Art Through Experience
Member receive a discount on our newest exhibit, Art Through Experience. Tickets are just $10.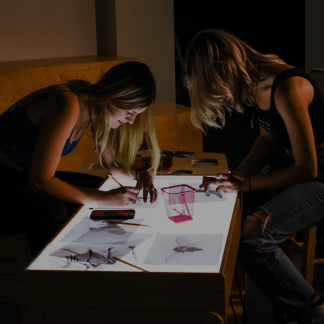 Unlimited General Admission
Members of The Leonardo have unlimited access to the museum's general exhibits. Plus, when traveling exhibits are on display at The Leonardo, members will receive a discount on tickets.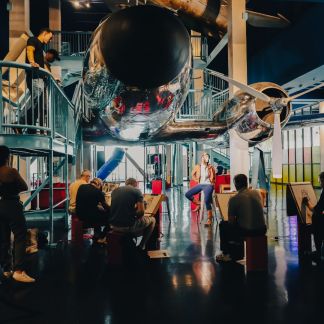 Members receive discounts on all programs and events, The Salt Bistro, The Leo Store, traveling exhibits, birthday parties, and guest tickets.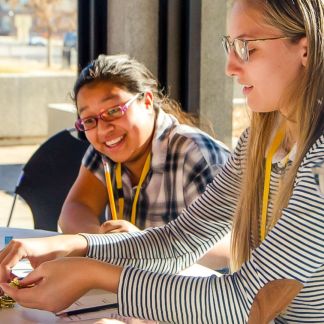 Members are invited to member-only events ranging from year-round family-friendly activities to after-hours events. 
Bonus ASTC Reciprocal Membership
Members of the Leonardo are granted access to a membership with the Association of Science and Technology Center (ASTC) passport program.  This membership provides either free or discounted admission to museums all over the country. 
Free Educator Memberships
Teachers can receive a free membership by participating in one of The Leonardo's education programs.
Review the Membership Policies
To ensure the use of your membership benefits, please bring your membership card or photo ID with you when you are visiting the museum.

One (1) additional adult may be added to the membership for $20 at the time of membership purchase or renewal.

Museum membership is valid until the date of expiration shown on the membership card.

Memberships may not be used towards the guest count of a birthday party package and cannot be used with group visits or field trips.

All memberships are to be paid in full at the time of purchase.

All memberships are non-refundable and non-transferable.

Membership cardholders must be 18 years or older.

Named adults on membership may not be changed during the term of the membership.

Lost membership cards will be replaced for free on the first occasion. Any subsequent replacement cards provided may incur a small administrative fee.

The Leonardo is a 501 C-3 non-profit organization; a portion of memberships is tax-deductible. Please talk to your tax professional for more information.

The Leonardo reserves the right to revoke without refund or compensation for any membership. The Leonardo is a place of public accommodation and will not refuse service for reasons of race, color, national origin/ancestry, sex/gender, religion/creed, and disability (physical and/or mental).

Membership activation is issued via email for the named cardholder only. You may not transfer your membership to another person or allow another person to use your membership.

Members can bring additional guests not included on the membership for $8.95 per guest to general exhibits. Member must be present to receive member guest discount. Discount is not valid on traveling exhibitions.

The Leonardo may be closed for private events, emergencies, or other unforeseen events. Operating dates and times are subject to change without prior notice. Please visit our website www.theleonardo.org for changes in our operating hours.

Membership prices, benefits, terms, and conditions are subject to change at any time without prior notification.