Flight Exhibit Overview
FLIGHT is an exhibit dedicated to the adventure of human flight. An experience designed to stimulate our visitors' imagination, FLIGHT explores the science, technology and stories that surround the ecosystem of aviation. Climb in and inspect the enormous C-131 aircraft, take to the skies on flight simulators or be captivated by the Tunnel of Dreams — however you'd like to learn about flight, this exhibit has something for you.
Flight Exhibit Highlights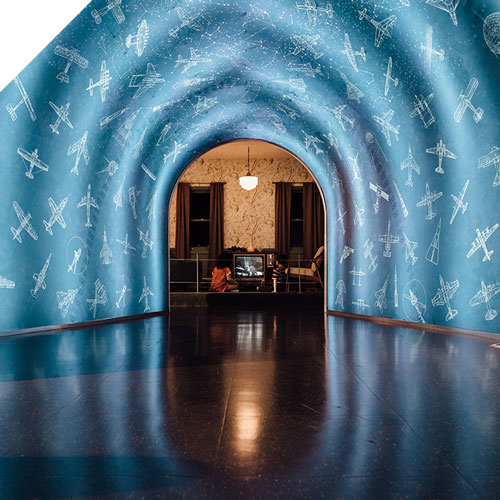 Tunnel of Dreams
Experience The Tunnel of Dreams, and discover for yourself the wonder of FLIGHT that has captured the imagination of inventors, aviators and dreamers for centuries.  As you exit the tunnel of dreams, you'll be placed into an authentic replica of an American living room on the night of July 20, 1969 .  There, you'll watch again, or for the first time, the extraordinary moon landing, led by Neal Armstrong and Buzz Aldrin—an event that would spark the wonder of a generation of scientists.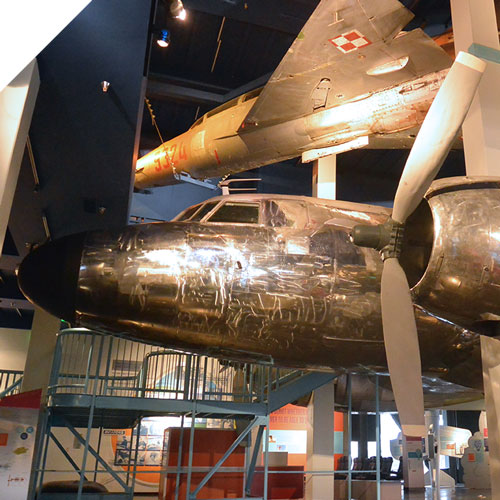 C-131 Aircraft
At the heart of the exhibit will be a fully restored C-131 aircraft which will sit in the center of the exhibit and clears the walls on either side of the gallery by a mere six inches. Built in the mid-1950s as primarily a military aircraft, the C-131 has a history of service within the US Air Force, among its many jobs. This particular aircraft has flown military missions, carried generals across the continent and even served in a non-military capacity for a while. In short, it's had a long and varied history, but it will now serve as a vehicle for people everywhere to learn more about the science, engineering and art of flying through the air.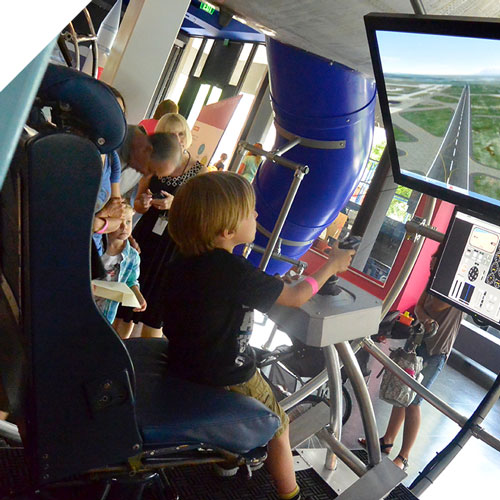 Realistic Flight Simulators
Ever wanted to fly a plane? Of course! We all have. But at The Leonardo, you'll actually get to do it. We have two, completely unique, hyper-realistic flight simulators that will take you on a wild ride. Learn what to do to help an actual plane get off the ground, or come in for a super smooth landing. These flight simulators, built especially for this exhibit by Rockwell Collins, are the same style of flight simulators that most pilots train on. Truly, there is no better way to learn how to be a pilot then to step into a simulator and experience first-hand what a pilot feels like as they drive their craft into the air. It's a rush you won't soon forget.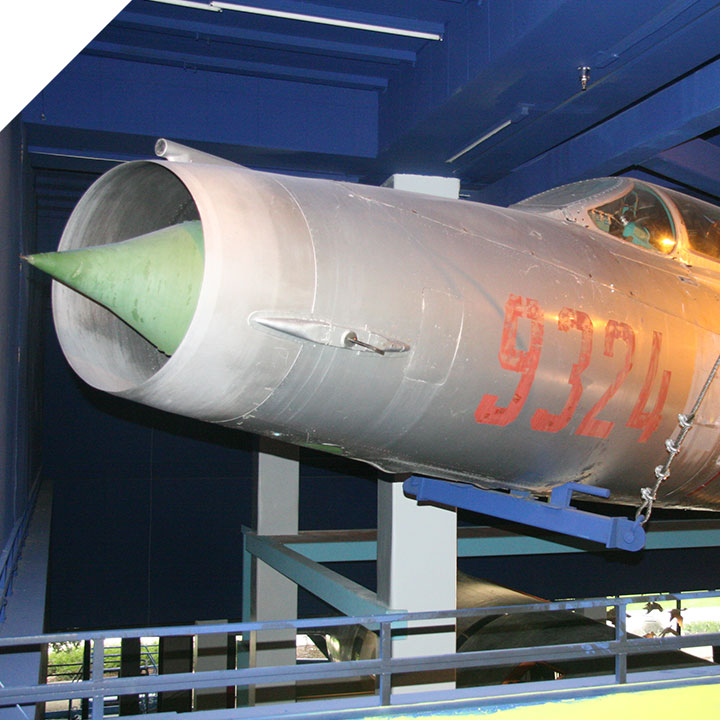 MIG 21
Hanging high above the Flight exhibit is our MIG-21. Follow the spiral staircase from the C131 plane for a close up view of this jet. Our MIG-21 was built in the 1980's and was used by the Polish military. Although the MIG-21 is no longer in production it currently holds the record for most produced jet aircraft and is still in use to this day. Visit Leonardo's workshop for a view of the MIG-21's iconic nose cone.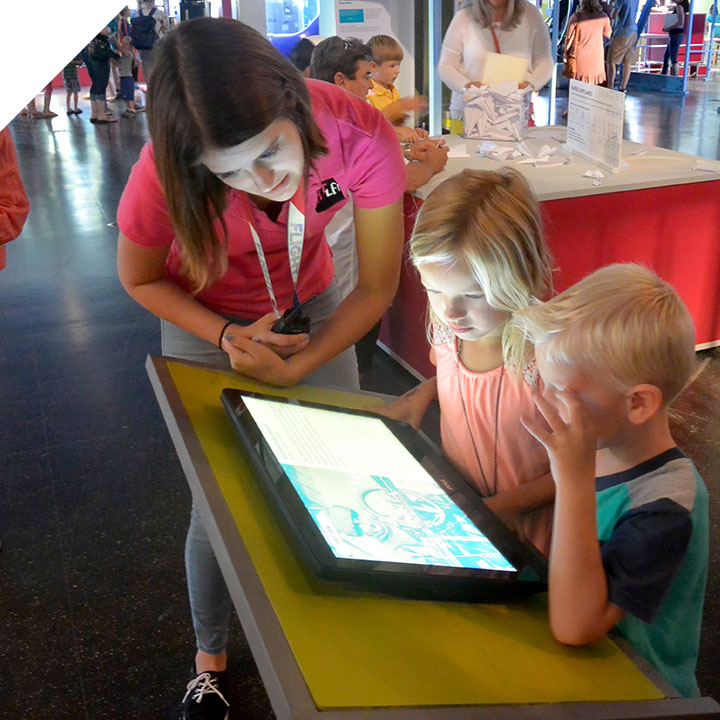 Innovators Interactive
There is a human story behind all of the breakthroughs in the evolution of flight. Innovators pushed the boundaries of their ideas when attempting to solve the hurdles of aviation. Aviators mastered the technology of flight and explorers aspired to go beyond perceived limitations. The accomplishments of innovators, aviators and explorers all transformed the way we fly today. The FLIGHT exhibit features some of those stories via a touch interactive where visitors are introduced to individuals such as innovators Orville and Wilbur Wright, astronaut Mae Jamison and aviator Colonel Gail Halverson, best known as the "Berlin Candy Bomber".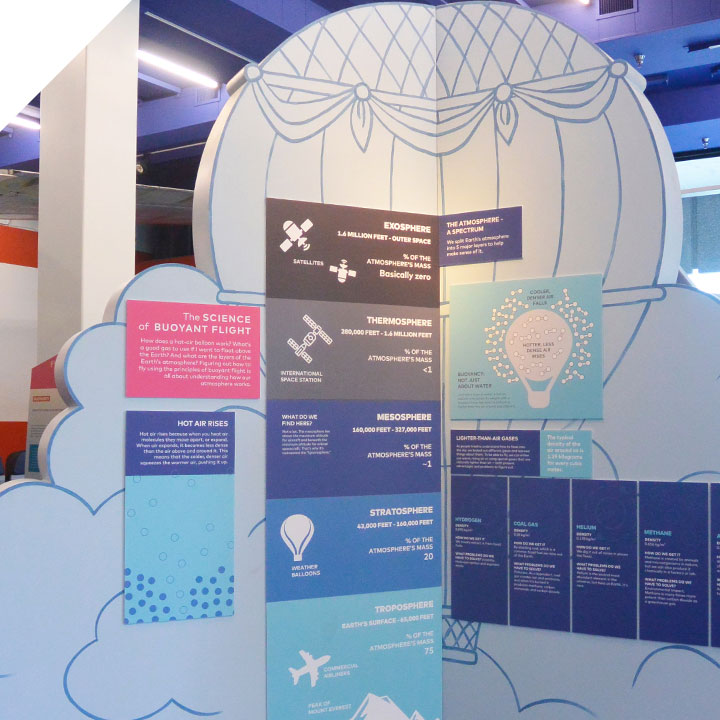 Types of Flight
Explore the ways we take to sky through interactives about aerodynamics, buoyancy and ballistic flight. Visit the plane shaped kiosk for a look into aerodynamic or winged flight. There you can learn about the developments in airfoils, plane flap types and navigation. As you continue to explore you will find a kiosk shaped like a hot air balloon. There you will discover the science and history of buoyant flight. Hydrogen, helium and other lighter-than-air gasses have propelled balloon aircraft and dirigibles such as the infamous Hindenburg. Lastly, play Flight Test: Projectile Trajectories. In this interactive, launching a ball with an air canon demonstrates ballistic flight. This type of flight guides bullets, bombs and rockets.
This exhibit is included with general admission
Flight Schedule of Events

The Leonardo da Vinci Connection
For much of his life, Leonardo da Vinci attempted to understand how things flew through the air. He studied birds early and often during his lifetime, trying to figure out what kept these creatures in the air. The story goes that Leonardo was studying the air and trying to ascertain exactly how the air flowed over the wings of the birds. To do this, he actually put wings into the water and watched how the current moved over the water, thus leading him to understand air current. He used this knowledge to build his own flying machine that, while it never actually flew, served as a first step into the discovery of manned flight.
This exhibit is included with admission
This exhibit is free for members
Flight was made possible with support from the following:
Presenting Sponsor
Church of Jesus Christ of Latter-day Saints Foundation
Experimental Aviation Association
Meldrum Foundation
BAE Systems
Salt Lake City International Airport
Residents of Salt Lake County through the Zoo, Arts & Parks (ZAP) Program