The Leonardo Girls Who Code Club Values Computing, Sisterhood and Entrepreneurship

In March The Leonardo began its' inaugural Girls Who Code Club. A month later the program is already proving to be a success and gaining community recognition. Girls Who Code is a national program, clubs can be formed at schools or community centers and are taught by educators and community mentors from the tech industry. This 11-week program for 3rd-5th grade girls at The Leonardo is led by museum educator Krishna Floisand and weekly community visitors such as STEAM mentors and professionals from Salt Lake City's local tech industry. The Leonardo's Girls Who Code Club enjoys a unique learning experience as participants are surrounded with inspiration throughout the exhibits around their classroom. Floisand claims "Since I have worked at The Leonardo, I have believed it was a perfect place for a Girls Who Code program, because we're all about innovation. We're all about creativity. We're all about curiosity."
The Leonardo Girls Who Code
Hear what our club members have to say about Girls Who Code!
The program introduces girls to computer science, game and digital design, robotics, web and more. The goal of Girls Who code is to close the gender gap of women in the tech industry. As computing jobs take over the future of the workforce, equity plays a key role in ensuring that all workers have access to careers in technology. Currently, fewer than 1 in 5 computer science graduates are women and the trends are not optimistic as the percentage of women in CS careers has been declining since the nineties. The good news is; many STEAM organizations are taking action to close the gap. In fact, Girls Who Code has proven impactful as the pipeline of girls who become alumni are choosing to major in CS at higher rate than the national average.
Krishna Floisand
STEAM Educator
Since I have worked at The Leonardo, I have believed it was a perfect place for a Girls Who Code program, because we're all about innovation. We're all about creativity. We're all about curiosity.
So how does a youth club change the future of women in tech? The program curriculum is immersed in teamwork values and it promotes a sisterhood all about supportive environments and helping girls to see themselves as computer scientists. The phrase "You can't be what you can't see" coined by Marie Wilson, describes the importance of role models. A student's potential is nurtured when they can see people who look like themselves in the careers they desire to be in. Thus, Girls Who Code Clubs meet with local women in tech to ensure visibility of those role models.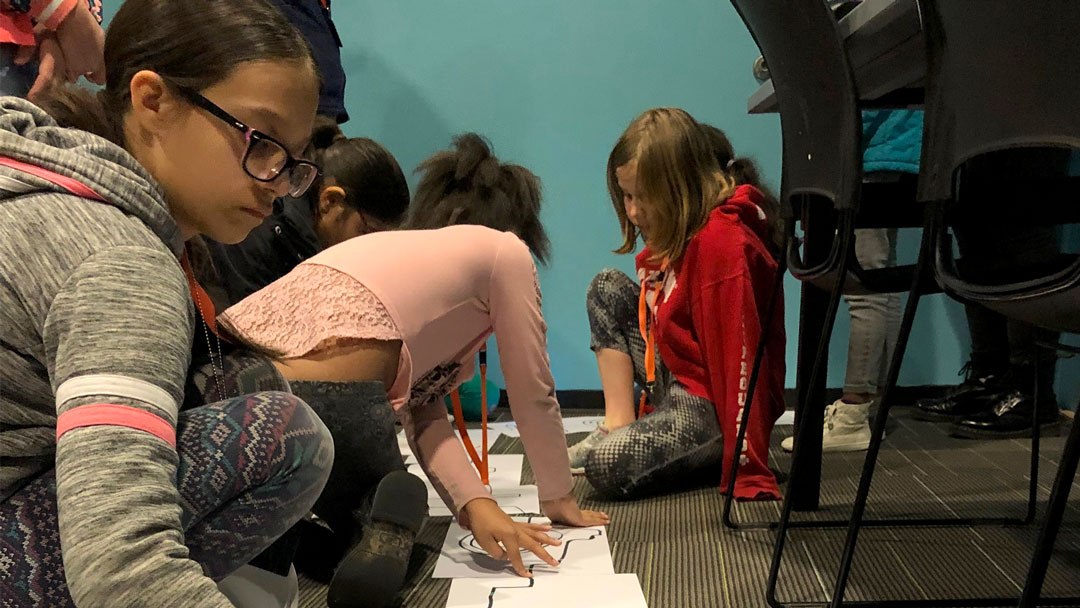 Further, Girls Who Code clubs encourage peer support as they work through curriculum activities and projects. For 3rd-5th graders, hands-on learning is actually a combination of computing and un-plugged activities. This allows the girls to engage in a variety of challenges and develop leadership skills. Students gain the foundations of computer science by practicing loops, variables, functions etc. and as they move up in the pipeline they are prepared to be adaptable when learning programming languages.
The Leonardo found Girls Who Code to be a perfect fit for museum community programs. Both missions align with the goal of providing experiences in STEM for people all ages and backgrounds that inspire creativity and innovation.  Currently, all essay category finalists of the Utah STEM Foundation's Entrepreneurial Challenge, are girls from The Leonardo's Girls Who Code Club. The club educator, Krishna Floisand, is also a finalist for the challenge's Facilitator Award. The announcement of winners will be on April 25th 2019.
The Leonardo Girls Who Code Club
Learn more about our Girls Who Code program