Please browse the information and sections below to help you plan a fun, enjoyable visit to The Leonardo. We can't wait to see you! 
The Leonardo is open Wednesday – Sunday from 12pm – 7pm
We are located in Downtown Salt Lake City at 209 East 500 South
We strongly recommend all visitors pre-register for tickets. We have capacity limits in all of our exhibit spaces and pre-registering will ensure space is available during your preferred time. For any questions, please email admissions@theleonardo.org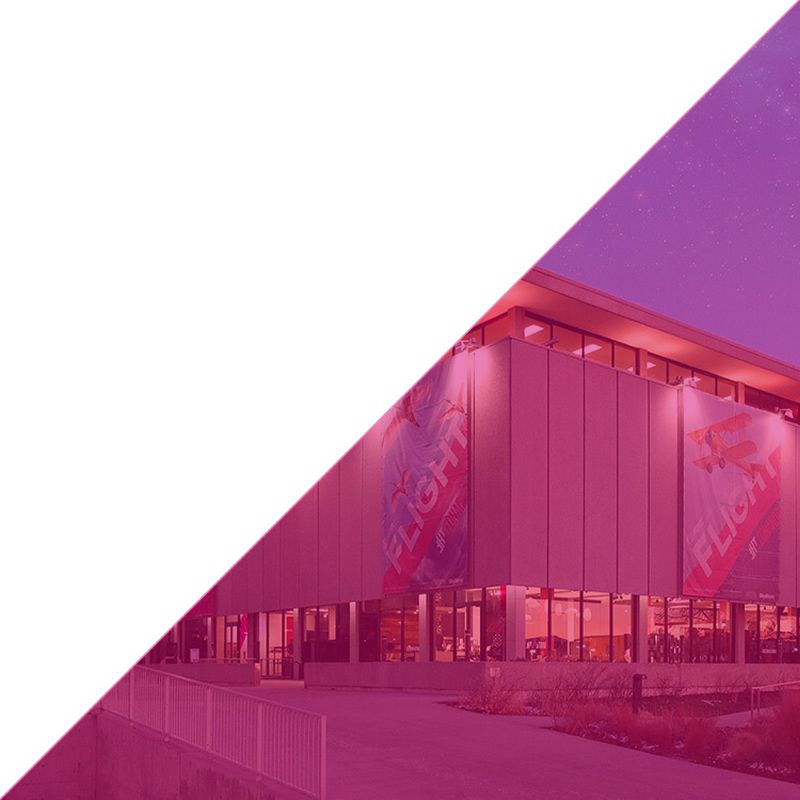 Ticketing Options
General Admission vs. Art Through Experience
General Admission includes access to all of the exhibit spaces on the first floor, including Flight and Lego Adventure. General admission also includes access to Black Wings and the Art Studio on the second floor. However, it does not include access to our newest exhibition, Art Through Experience, located on the second floor.
Art Through Experience tickets include access to everything provided with a general admission ticket + access to the showing playing as part of Art Through Experience during your scheduled ticket time.
Check out our program calendar to see whats happening on the day you plan to visit. Our programs are designed to include selections for family, youth, adult, and all-ages audiences. Don't forget to read the details of a program that may interest you as space may be limited.
Some of our exhibits are "permanent" and some are "traveling" but there is always something new to see. The permanent exhibits are regularly refreshed with new and exciting content to keep things fun and interesting. Check out the exhibits that are currently active here.
Membership at The Leonardo provides incredible member perks, such as discounts on all programs, at The Salt Bistro and Leo Shop, plus priority access to general admission and discounts on traveling exhibitions. Learn more about our membership options here.
COVID-19 Safety Precautions
Beginning on Saturday, January 8th, masks will be required at The Leonardo for all visitors, including members, guests, and employees, regardless of vaccination status. This policy is in accordance with a 30-day mask mandate issued by the county, which will remain in place from January 8th through February 7th.
All Leonardo staff members are required to wear a mask.
Please do not visit The Leonardo if you are feeling unwell or experiencing any symptoms of illness. 
Please maintain a physical distance of six feet between yourself and other visitors and/or between household groups.
The Leonardo has a spacious facility that allows guests to spread out.
The Leonardo facility is well ventilated with regularly replaced filters across three floors. 
The Leonardo has reduced its hourly capacity and ticket sales to ensure adequate space for social distancing. 
Museum Policies
Children under age 16 must be accompanied by an adult, age 18 or older.
Outside food and beverages are not  permitted in the Museum. Some food and drink options from the Salt Bistro may be allowed in certain areas of the museum. No food and drink is allowed in the IDEA Space (i.e Art Through Experience). 
Photo Policy: By entering this public facility you are agreeing to let The Leonardo and all news media organizations use your photograph and/or likeness for any news or promotional purpose. No compensation will be given for the use of the photographs taken at The Leonardo.
Weapons Policy: As posted at the entrances to the Museum, for the safety of our guests, no weapons (including concealed or open carry) are allowed in the Museum. The Museum is committed to maintaining a safe and secure environment. This policy is a proactive step towards reducing risks associated with intentional or accidental use of weapons regardless of whether a federal or state license to possess the same has been issued to the possessor. Anyone possessing a weapon or dangerous object of any kind will be asked to remove it from the premises immediately. The only exceptions to this policy are law enforcement.

Refund Policy:

Online ticket sale refunds can only be offered if the guest cannot attend the event, and requests the refund no later than 72 hours before the time of the event. Tickets can also be rescheduled if the request is made no later than 72 hours prior to the event date. However, ticket availability for alternate dates is not guaranteed and is subject to a first come, first serve basis. All refund and rescheduling requests must be submitted in writing no later than 72 hours prior to the event date/time. Submit a request to The Leonardo here.

Tickets will not be replaced or refunded if stolen, or unused. Lost tickets can be reprinted once if unused and with an order number, confirmation email or photo ID of the original purchaser.  Refund Policy:

In the event of a showing cancelation all ticket purchases will be refunded.