Feed Your Brain and Your Stomach
Trust us, we know how hard it is to think when you're hungry. Well, actually, it's not hard to think. It's just hard to think about anything other than food. And when you're doing mental gymnastics at The Leonardo it's imperative that your thoughts aim a little higher than your empty stomach.
Our flavorful menu is designed to suit the needs of parents and children alike. While they chow down on delicious mac and cheese, you can help yourself to a mixed berry salad or (for heartier appetites) a mouth-watering panini filled with locally-made cured meats, fresh basil, and melty mozzarella cheese.
We created Salt Bistro so everyone who walks through our doors can stay as long as they like. You don't have to stress about packing lunches or leaving too early because the tykes' rumbling tummies have led them into an unexpected mood swing. Everything you need is inside our four walls.
Museum admission is not required for dining.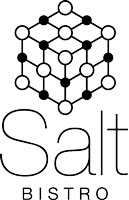 Open During Museum Hours
Wednesday – Friday : 10 am – 7 pm
Saturday – Sunday : 12 pm – 7 pm