Trivia Night Overview
Each trivia features six rounds of science, pop culture, current events, art history and 'mystery subject' questions. The event is FREE! Each trivia night at The Leonardo is on the 2nd Friday of every month. Come solo or bring your own team of up to six people and be prepared to challenge your opponents! We are ready to make you laugh and make you think a little outside of the box. If you're looking for a fun and educational time, look no further that Trivia Night at The Leonardo.
The Leonardo Trivia Night Schedule
While all ages are welcome, ages 13 and up are recommended due to the education level of The Leonardo Trivia Night questions.
RSVP is required to attend this FREE event. Salt Bistro is Open
Be the brains of the competition and come hungry, Salt Bistro is always serving an appetizing menu and a selection adult drinks for the night.
No outside food or drink is permitted at this event. Thank you for supporting a community powered non-profit.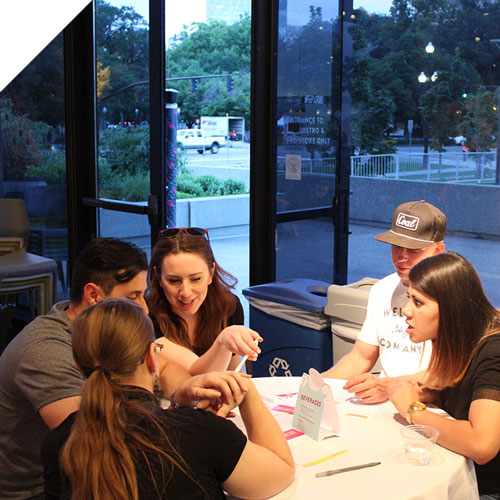 Trivia Teams
Grab your friends or join the fun solo. Teams of up to six players are paired up to start. Be sure to sign up at check in and get ready for the game to start.
Prizes
Only the brainiest will walk away with the willing swag. Prizes are sponsored by The Leonardo, The Salt Lake City Public Library and The Salt Lake Film Society. You won't want to miss your opportunity for a chance to win!