It's time to flex those creative muscles! Join us on the first Saturday of every month to practice a variety of art mediums with a professional instructor. Not only does every workshop feature an exciting different theme, where you'll practice a variety of artistic skills, but they are led by incredible local artists who have mastered each technique and are excited to share their talents. 
Classes range from sculpture to illustration. Check out the calendar below to see what's coming up and register. Check back often, as we release new class schedules regularly.
Art Workshop Series – Class Schedule
Join us on the first Saturday of every month for a rewarding art class. Each class includes supplies, instruction, and an unforgettable experience.
Botanical Illustration with Libby Frame 5.7.22
Each participant in this class will learn how to utilize digital art tools to create exciting and beautiful botanical illustrations. Libby's process uses real flowers to translate their incredible detail paired with each artist's unique style into a one-of-a-kind digital drawing.
About The Instructor: Libby Frame is a Los Angeles-based illustrator obsessed with delicate detail contrasted against simple solids. She has worked for various clients, including Spin Master, Skillshare, Miss Patina, Pop Mart, etc. Her work is inspired through a mixture of daily life with the fantastical, with an aspiration to emulate warmth and comfort. Learn more about Libby here.
Up-cycled Stories: Books as Process with Marnie Powers-Torrey 6.4.22
This workshop is co-sponsored by The University of Utah's Book Arts Program at the J. Willard Marriott Library.Bring a challenging short story to retell in a new light, a daily routine to reconsider and reframe, or a snapshot of life that could use a refresh. With a focus on finding joy and beauty in the everyday, participants stamp out insecurities, recontextualize perceived shortcomings, and re-imagine the self in book form. In this active workshop, employ ink, brushes, stamps, mark-making tools, text, found materials and re-collected common objects to produce process pages. Through a reimagining of the past, reinvent present perspective with an open heart, mind, and eyes toward gratitude and compassion. Come with a willingness to play with color, shape, narrative, and texture.
About the Instructors: Marnie Powers-Torrey holds an MFA in Photography from the University of Utah and a BA in English and Philosophy from Boston College. She is the faculty mentor for book arts designations and teaches letterpress, bookmaking, artists' books, and other courses for the Book Arts Program. Marnie will be joined by Sydney Porter Williams. Sydney is a community-based teaching artist in Salt Lake City, Utah.
Clay Sculpture with Christina Riccio July TBA
Participants will experience the joy of creation through sculpture in this exciting all-levels class. Through moldable touch utilizing polymer clay you'll create 3-dimensional works of art with vibrant, bright colors. Polymer clay is an excellent medium for beginners looking to develop skills in all areas of sculpture.  In this class, you will gain a deeper understanding of how clay works as a medium, including learning how to visualize works of art from conception to final realization. 
About the Instructor: Christina Riccio creates sculptural and functional ceramic works around themes of neuro-divergence, including challenging stigmas related to living and coping with mental illness, specifically anxiety and depression. Christina received her B.A. in Visual Arts and New Media from SUNY Fredonia in 2014. After graduating Magna Cum Laude, Christina then went on to study ceramics and art education at Buffalo State College in 2015. During her time at Buffalo State, she received the Sylvia Rosen Award for Excellence in Ceramics. In addition, she was chosen to participate in the Deans Gallery Invitational Exhibition, showing four pieces from her breakout series Emotional Infection. Christina is currently pursuing her MFA in ceramics at The University of Utah. Learn more about Christina here. 
>> REGISTRATION OPENING SOON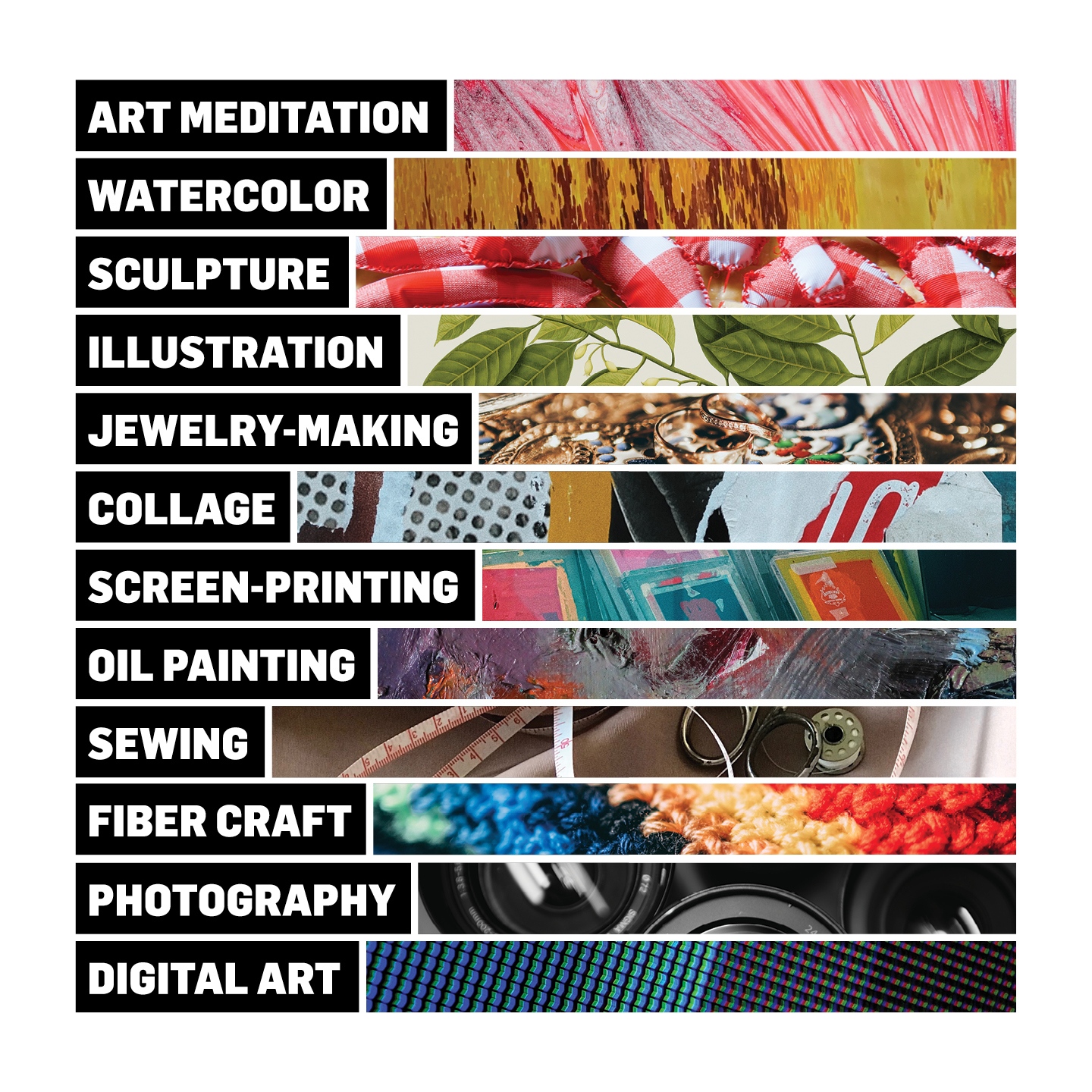 Mindfulness & Mediums with Kate Wingard 2.19.22
Join us for this exciting art meditation class. This class invites participants to engage with a variety of materials while they explore mindfulness, self-expression, and curiosity with Kate Wingard,  This class is open to people of all skills levels and interest.
> REGISTRATION CLOSED – Check back for similar classes soon
Wondrous Watercolor with Nancy Andruk Olson 3.5.22
Join us for an exploration into the world of watercolor. Come learn about the wondrous world of watercolor as you play with vibrant and contemporary watercolor techniques.
Watercolor is an excellent medium for experienced and beginner artists looking to develop a strong individual style. In this class, you'll practice with an expert to gain a deeper understanding of both technical skills as well as personal creative preferences. Watercolor practice ultimately allows participants to translate artistic motivations into a unique artist voice. Learn through an individualized approach, develop technical skills, and enhance your ability to think creatively!
Learn more about Nancy Andruk Olson here.
> REGISTRATION CLOSED – Check back for similar classes soon
Meaningful Object Sculpture with Bea Hurd 4.9.22
Humans place meaning in objects of all shapes and sizes – which is why we love souvenirs, keep unique rocks we find, and cherish our keepsakes. In this class, you'll practice sculpture art by looking at various objects with newfound meaning.
Join us for a one-of-a-kind class where participants will develop sculpture concepts from the meaningful materials they choose to work with. Explore materials from a new perspective to better understand the influence of material choices on your work. Participants are encouraged to bring any material they are interested in working with; some examples maybe balloons, soda can tabs, bandaids, duct tape, bubble gum, astroturf, etc.
Learn more about Bea Hurd here.
>> REGISTRATION CLOSED