2019 is Spooktacular DIY! Get ready for your Halloween celebrations during this weekend of spooky family fun. Learn to make creepy decor, try Halloween STEAM activities throughout the museum, catch eerie performances and more!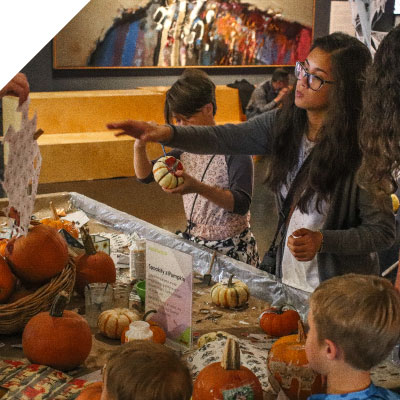 Get creative with DIY Halloween! Learn how to make creepy decor, fun treats, accessories and more!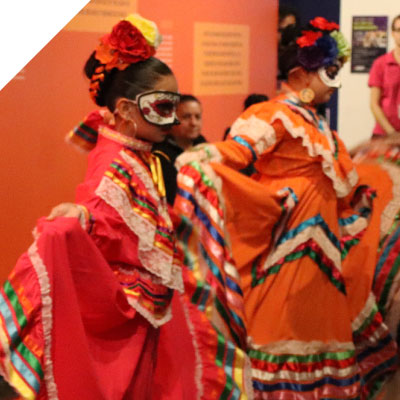 See local performers showcase their Halloween and Day of the Dead talents throughout the fest!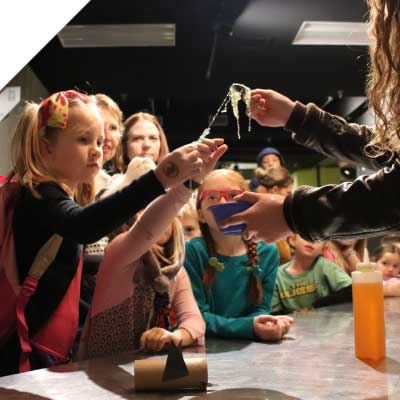 Spooky science demos are a museum favorite! Enjoy all the Halloween STEAM activities.
The Leonardo Spooktacular DIY Schedule
October 3rd – 6th, 2019 10AM – 5PM

| Date | Time | Activity | More Information |
| --- | --- | --- | --- |
| 10.03.19 | 11 AM | Paint a Tombstone | |
| 10.03.19 | 12 PM | DIY Slime | |
| 10.03.19 | 2 pM | Make a Monster Cup | |
| 10.03.19 | 3 PM | Feel Fear Factor Activity | |
| Date | Time | Activity | More Information |
| --- | --- | --- | --- |
| 10.04.19 | 11 AM | Paint a Tombstone | |
| 10.04.19 | 12 PM | DIY Slime | |
| 10.04.19 | 2 PM | Make a Monster Cup | |
| 10.04.19 | 3 PM | Feel Fear Factor Activity | |
| 10.04.19 | 10 AM – 2 PM | Help Build a Paper Machete Volcano | |
| 10.04.19 | 11:30 AM | Leonardo Che Genio! Performance | |
| 10.04.19 | 11:00 AM – 5:00 PM | Caricatures by Carolyn | |
| 10.04.19 | 2:30 PM and 4:00 PM | Spooky Stories with Daniel Bishop | |
| 10.04.19 | 3:00 PM – 5:00 PM | Balloon Man Shan | |
| Date | Time | Activity | More Information |
| --- | --- | --- | --- |
| 10.05.19 | 9:30 AM | Live Model Drawing Session | 18+ only please bring your own supplies. price: $10 |
| 10.05.19 | 11 AM | Paint a Tombstone | |
| 10.05.19 | 12 PM | DIY Slime | |
| 10.05.19 | 10 AM – 2 PM | U of U Neuroscience Program: Brains! | See and hold actual human brains plus neuroscience activities. |
| 10.05.19 | 2 PM | Make a Monster Cup | |
| 10.05.19 | 3 PM | Feel Fear Factor Activity | |
| 10.05.19 | 11:00 AM | WestSide Dance Dia de los Muertos Performance | |
| 10.05.19 | 12 PM – 2PM | Make a Sticker with Salt Lake City Public Library Creative Lab | |
| 10.05.19 | 12:00 PM – 5:00 PM | Live Photobooth Drawings | Get your portrait drawn photo booth style! price: $10 |
| 10.05.19 | 2:00 PM and 4:00 PM | Olympus Hills Trunk or Treat Craft | |
| 10.05.19 | 2:00 PM – 4:00 PM | DIY LED Halloween Cards | |
| 10.05.19 | 1:00 PM – 3:00 PM | Member Event: Sugar Skulls, Treats and Bat Gliders. Not a member? Become a Member Today! | RSVP |
| Date | Time | Activity | More Information |
| --- | --- | --- | --- |
| 10.06.19 | 11 AM | Paint a Tombstone | |
| 10.06.19 | 12 PM | DIY Slime | |
| 10.06.19 | 2 PM | Make a Monster Cup | |
| 10.06.19 | 3 PM | Feel Fear Factor Activity | |
| 10.06.19 | 11:00 AM – 5:00 PM | Caricatures by Carolyn | |
| 10.06.19 | 12:00 PM – 5:00 PM | Live Photobooth Drawings | Get your portrait drawn photo booth style! price: $10 |
| 10.06.19 | 2:00 PM – 4:00 PM | DIY LED Halloween Cards | |